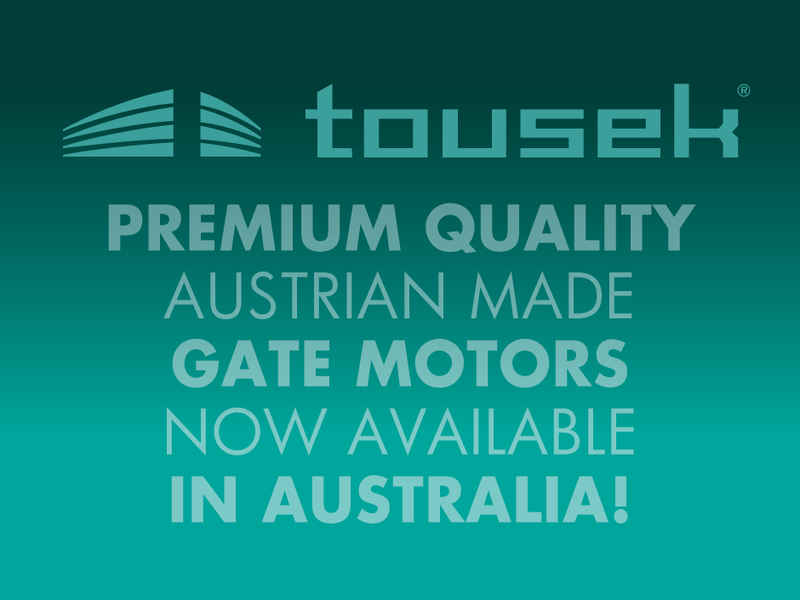 Premium Quality Austrian Gate Motors Now Available!

Founded in Austria in 1974, with over 45 years under their belt, Tousek are considered trend-setters when it comes to the quality and visual appeal of their gate motors (operators). Known for the exceptionally long operating life and smooth running automation, Tousek product is unparalleled in the market, there really is nothing else built to the same high standard!

With around 100 employees and with offices in 6 locations in Europe, Tousek are exclusively focused on supporting a network of specialist dealers, of which Global Access are proud to be in partnership with Tousek as their APAC (Asia-PACific) representatives.
Global Access have selected a specific range of Tousek product for the Australian market

If you're seeking a product that is visually appealing and will give you many years of smooth operation, then request Tousek automation as your preferred solution when consulting with an installer.

Global Access have a large range of Tousek automation as follows:
• Sliding Gate Motors - Residential + Commercial;
- Pull TSA (Coming Soon)
- Pull T 24V + Pull T 230V Rang: Pull T8, Pull T10, Pull T15 (Various Models)
- TPS 6 | TPS 10
- TPS 20 | TPS 20 PRO
- TPS 40 PRO

• Swing Gate Motors - Residential + Commercial;
- Slim CLR
- Swing X (Various Models)
- REX

• Lift X2 Chain Lift Barrier

• Safelock Motorised Locking Bolt

For more information on the Tousek range of Sliding Gate motors, CLICK HERE
For more information on the Tousek range of Swing Gate motors, CLICK HERE