Timer installation notes.
Setting the time zone and daylight savings:
Be sure to set the correct time zone, In the time zone settings disregard the capital citys listed and enter to the correct UTC for your location. Do not add daylight savings to your time zone.
Australian daylight savings settings.
To set daylight savings when using the talent smart phone app
App – Go to timer settings and set summer/wintertime change to Kalib1
Then set From = 1 of October and To = 1 of April. See below :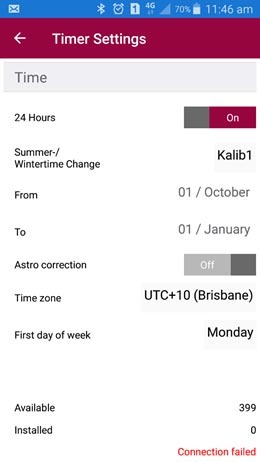 To set using the buttons on the timer and for all other settings refer to the manual.
The complete manual can be downloaded from the link below.

Subscribe to our Newsletter
Subscribe for Exclusive Offers, News, and More!