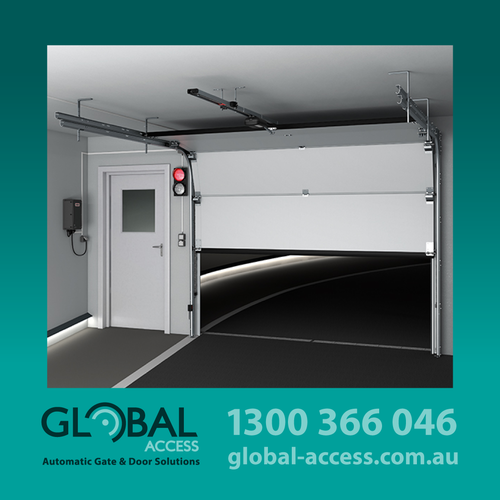 SOMMER Tiga+ Garage Door Opener [AVAILABLE NOW]
S 9110 Tiga+ Kit
[AVAILABLE NOW]

• SOMMER S9110 Tiga+ Kit

MOTOR SPECIFICATIONS:
S9110; Max. Door Weight = 200Kg | Max. Speed = 1800mm/s | Max. Pull/Push Force = 11000N
Sectional Door = 8000mm W x 2500mm H | Side Opening Sectional Door = 6850mm W x 2500mm H

ALL KITS INCLUDE:
• 1 x Operator and 1 x 2 Button Transmitter

Highest level of flexibility
Thanks to the separate control unit housing for wall mounting, the passing of cars will not be impeded during installation of the control unit. The Tiga underground garage door operators use the same carriage. This reduces the storage space and storage costs for spare parts.

Safety thanks to encrypted radio control system
The garage door operator with bidirectional, rolling encrypted radio control system provides maximum security. The SOMloq2 radio control system transmits bidirectionally, which means that feedback on the send command or the door position can be received. The rolling code is encrypted with 128 bits, the same encryption that is used for online banking. Backward compatibility of the transmitter to the Somloq Rollingcode radio control system is always available.
Countless extensions
Useful extensions such as the Memo memory space extension, the Motion detector and countless other accessory modules are also available. Additional connection options are located directly on carriage (slip door contact and safety contact strip OSE or 8k2). Thanks to our modular system, extensions can be installed quickly and easily. Since the connections are located directly on the carriage, no spiral cables are necessary, saving you time and money.
Battery pack for power failures
During a power failure, the operator can be run in emergency mode with an optional battery pack and the door will never fail.
Emergency release
Thanks to the integrated SOMMER emergency release system, the carriage can be engaged and disengaged in any position. This ensures security in any position, even if there is a power failure.
Environmental and cost efficiency
The energy-saving operator consumes about < 1 watt of energy a year in standby mode, amounting to about €1.80 in electricity costs. It is thereby not only inexpensive to operate, but also environmentally-friendly.
Smooth-running and long-lasting
Thanks to the gear-saving technology, the garage door operator is extremely quiet, low-wear and has a very long lifetime. The operator is completely maintenance-free.
Optimal application of force
The motor track carriage moves itself along a permanently tensioned chain so that no frictional loss and no loss of power occurs as does with a revolving chain.
Clean chain
The galvanised chain is maintenance-free and does not need to be oiled. This prevents oil spots from getting on the door or vehicle.
Improved fire prevention
Due to the flame resistant materials, the operator offers a high safety factor and protects from fires starting.
Universal use – compatible with almost all door types
The Tiga underground door garage operator are well-suited for sectional doors, overhead doors, swinging doors, up-and-over doors* and side-opening/side-opening sectional doors. They achieve optimised door parameters thanks to a simple DIP switch function directly on the operator.
* Special fitting require
Product Information
---
---
---
---
Disclaimer
A fee will be charged for the additional customisation or preparation of operators and/or accessories at the time of order.
Prices shown are ex-GST and Plus Freight, you must add GST & Freight to applicable orders.
Global Access advises that all automation systems should have the appropriate safety devices to protect pedestrians and vehicles.
This is mandatory for some operators, this is listed in the notes for the applicable products.

Pricing Disclaimer
Product information and pricing is presented in good faith and believed to be correct at the time of publication, Global Access makes no representations or warranties as to the completeness or accuracy of the information.
Where a product is listed at an incorrect price due to typographical, photographic, or technical error, Global Access shall have the right to refuse or cancel any orders placed for product listed at the incorrect price. Global Access has no liability for any errors or omissions for the content on this website.