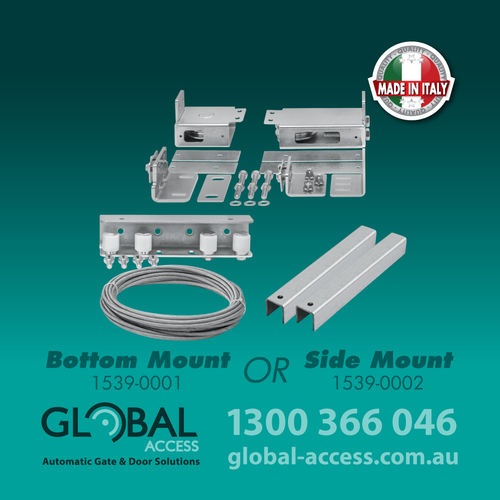 Telescopic Cable + Pulley Driven Sliding Gate Kits - Bottom OR Side Mount - For Gates Up To 8m
1539-0001
Available in:
- Top Mount
- Bottom Mount.

Important Note:
• When fitting a Bottom Mount Unit, the wheels MUST be mounted upside down to ensure there is adequate clearance for the telescopic kit to work!

Product Variations
Product Information
---
---
---
Disclaimer
A fee will be charged for the additional customisation or preparation of operators and/or accessories at the time of order.
Prices shown are ex-GST and Plus Freight, you must add GST & Freight to applicable orders.
Global Access advises that all automation systems should have the appropriate safety devices to protect pedestrians and vehicles.
This is mandatory for some operators, this is listed in the notes for the applicable products.