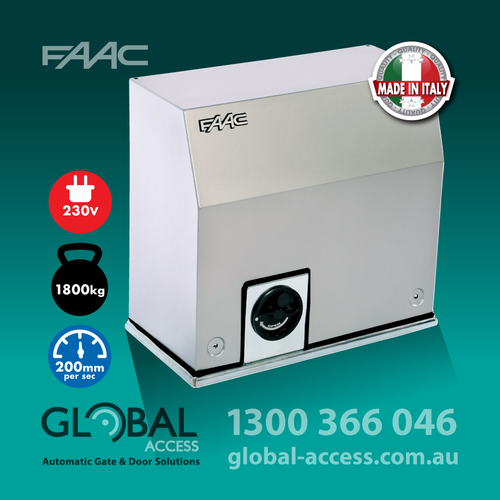 FAAC C851 230v Electric Sliding Gate Motor
1516-0008
The C851 is ai Industrial sliding gate gear motor, with 100% Duty Cycle.
A Chain Driven C851 option is available.

Operates industrial sliding gates weighing up to 1800Kg with a speed (adjustable) up to 0.66 m/s and a maximum recommended length of 20m.
Ideal for stores, warehouses, malls, prisons, embassies, or any application in which Fast Operation and Continuous Duty (100%) can be requested.
Powerful gearmotor: 1.1KW irreversible gearmotor + electric brake
1.1KW Frequency Inverter easy speed programming of:
- Running speed
- Deceleration speed
- Rump-up time (acceleration)
- Rump-down time (deceleration)
Built-in loop detectors
Integrated full feature control panel protected by a metal housing and plastic transparent cover
4 Integrated limit-switches
5mm hot dipped galvanised steel operator's base with 5 fixing points
Slot holes and height adjustment pins to permit full operator's position adjustment
1.5mm steel cover with zinc primer protection treatment plus powder coated painting
In the event of power failure an easy manual release operation makes it possible to move the gate manually. The manual release device can be activated from the outside of the operator without removing the cover.
IMPORTANT NOTE:
• Safety devices such as photo beams MUST be used on these models!
• Kits do not contain radio gear or remotes
Model Variants Available:
- 1516-0008 - C851 with Z28 Pinion - 1800kg Max. Weight - 230v - Must use external safety - Up to 660mm/sec.
- 1516-0024 - C851 Chain Drive - 1800kg Max. Weight - 230v - Must use external safety - Up to 660mm/sec.

Product Variations
Product Information
---
Product Specifications
We recommend the use of devices such as Photo Beams as a minimum safety option to reduce the chance of injury to persons and damage to vehicles
Max. 1800kg, 600Kg @ 500mm/sec
Z28 Pinion = Up to 700mm/sec
---
---
---
Disclaimer
A fee will be charged for the additional customisation or preparation of operators and/or accessories at the time of order.
Prices shown are ex-GST and Plus Freight, you must add GST & Freight to applicable orders.
Global Access advises that all automation systems should have the appropriate safety devices to protect pedestrians and vehicles.
This is mandatory for some operators, this is listed in the notes for the applicable products.