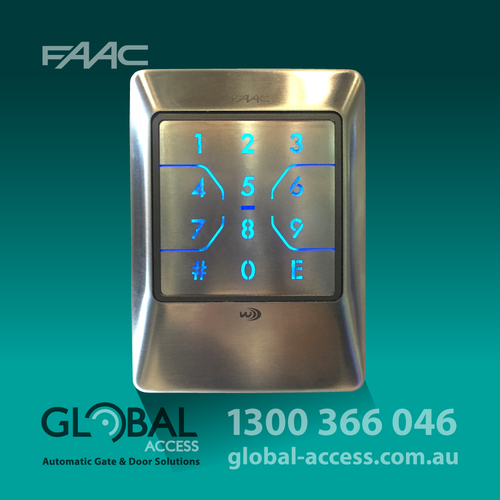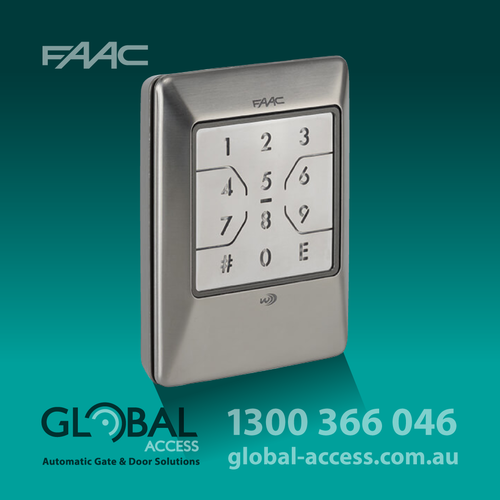 FAAC XKP Keypads - Wireless OR BUS
1038-0006
We are currently out of stock of this item, and apologise for any inconvenience.

• Wall OR Column installation
• SLH: Rolling code encrypted self-learning
• Battery Powered - CR2450
• INOX (Stainless Steel) Finish
There are TWO (2) Version of the XKP Keypad, a Wireless version, and a BUS version.
The XKP keypads are available in an INOX (Stainless Steel) finish; back body is painted aluminium and INOX surface + cover.
The keypads are extremely compact, with a thickness of only 21mm.
Both keypads look identical, however the Wireless version has a 'W' for Wireless, and the BUS version will have '2easy' engraved onto the front so that both versions are easily distinguishable. Both models have BLUE LED back-lighting.
There are two levels of programming, depending on how the unit is to be used;
EASY: Simple to setup and all users use the same code to activate/trigger.
ADVANCED: More complex to setup and users can set a maximum of 255 unique (different) codes.
IMPORTANT NOTE:
• Wireless version is in-stock
• BUS version will be arriving soon (CURRENTLY NOT IN STOCK)

Product Variations
Product Information
---
Product Specifications
72mm W x 100mm H x 21mm D
---
---
Disclaimer
At Global Access we try our hardest to ensure product descriptions and pricing are correct, however the buyer acknowledges that pricing may differ at the time of purchase, and will be shown on the Tax Invoice provided at the time of payment.
A fee will be charged for the additional customisation or preparation of operators and/or accessories at the time of order.

Prices shown are ex-GST and Plus Freight, you must add GST & Freight to applicable orders.