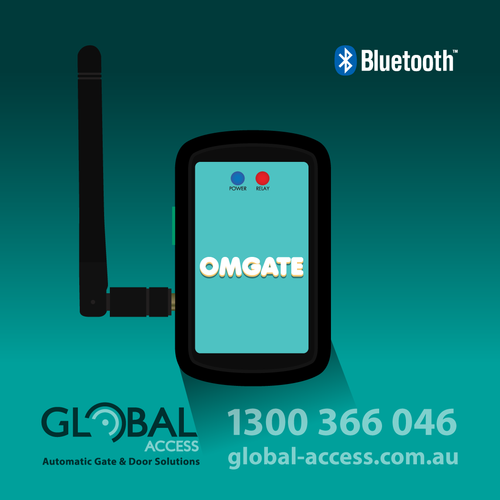 Omgate Bluetooth Access Controller - Version 'OX'
1018-0032
We apologise, Omgate's are currently out of stock.
We are expecting delivery of new stock in early to mid February 2019.
(Note date: 1/2/2019)
Use your smartphone to open gates &/OR garage doors from your Smartphone!

Suitable for Residential applications, this device can be attached to any existing automation.
These are super easy to install, and are great for reducing the need for extra remotes, give access to your partner, your kids, the cleaner, tradespeople. Give access for as long or short a time as you desire.

• Manage / administrate the access of users from your smartphone:
- Home Garage Door
- Work Sliding Gate
- Farm Swing Gate
- Work Factory Barrier
- Showroom Bollards
• Simple to install device, retro-fits most automation systems
• Replaces the need for a keypad or remotes
• Manage the access of all users, grant and remove access whenever you wish:
- Family
- Friends
- Employees
- Tradespeople
• Offers the highest level of security
#An access controller must be installed on each of the automation systems
NOTE:
The new Omgate version 'OX' device offers a standard maximum of 10 users (for Free). Additional users above the standard 10, can be obtained by purchasing a yearly subscription (within the Omgate App) as follows:

• Up to 10 users FREE
• 11 to 20 users = $39 USD (annually)
• 21 to 50 users = $89 USD (annually)
• 51 to 100 users = $129 USD (annually)
• 100 to 500 users = $349 USD (annually)
User limit is capped to 500 maximum!
Any change to the Omgate App are implemented by Omgate themselves!

Global Access in no way control the Omgate App or any changes to the capabilities of the App, or any fees that are associated with the
download or ongoing operating costs to use the Omgate App.

Global Access do not receive any commission or fee from Omgate associated with the ongoing operating costs of any Omgate Bluetooth
Trigger Device sold by Global Access.
ADDITIONAL NOTE:
The Bluetooth Access Controller utilises the powerful Omgate Phone App to perform it's industry leading functions. Currently the Omgate App is available for compatible Apple and Android Smartphones.

A range increasing antenna is available (additional costs apply).

Product Information
---
Product Specifications
Curren Draw is up to 80mA
---
---
---
---
Disclaimer
At Global Access we try our hardest to ensure product descriptions and pricing are correct, however the buyer acknowledges that pricing may differ at the time of purchase, and will be shown on the Tax Invoice provided at the time of payment.
A fee will be charged for the additional customisation or preparation of operators and/or accessories at the time of order.

Prices shown are ex-GST and Plus Freight, you must add GST & Freight to applicable orders.